What's the First Thing You Should Do When Weed is Federally Legalized?

WATCH THE SHOW NOW, CLICK THE VIDEO ABOVE!
Green Rush LIVE asks some industry experts where they are putting their money now?
In case you missed Green Rush LIVE this week, we sat down and asked industry legends like Bruce Linton, Deb Borchardt, Steve Andrews, Curt Dalton of Cannabis.net, Jocelyn Sheltraw and David Rabinovitz about what they would do first if they new the date of cannabis legalization.  We picked March 1, 2022 as the "day of legalization" and asked the legends in each space what they would do 30 days before and the day of legalization for investments and such.  When America goes legalized green what is Bruce Linton going to do? He says, "Buy France!", say what, Bruce?  Jocelyn Sheltraw from Headset breaks down whether we will see brands merging on the West Coast in order to compete with big MSO, Deb Borchardt looks at M&A on Wall Street at legalization gets closer, and David Rabinovitz looks at how social equity and economic empowerment candidate will fair with full legalization.
Get ready for some insights you may not have known like using human cadavers to grow weed? Say what?  What about the cannabis carbon footprint when full legalization kicks in?  Grab some popcorn, get some water, and enjoy some industry experts talking about full federal legalization.
WANT TO SEE MORE GREAT SHOWS, SEE BELOW…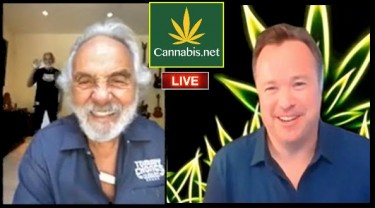 TOMMY CHONG TALKS HIS NEW DISPENSARY IDEAS WITH CURT DALTON!
OR..
BRUCE LINTON GETS $100 MILLION AND IS READY FOR HIS SECOND ACT!