Buon Giorno la Marijuana! – Italy Gets Ready to Legalize Cannabis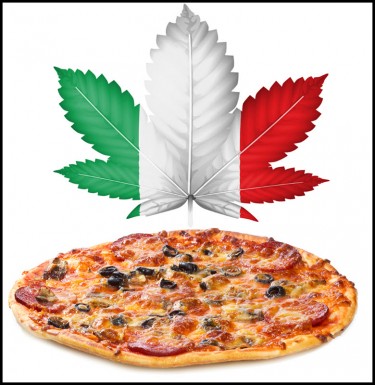 In recent years, a lot of countries have made moves to legalize cannabis, and even more nations seem set to join. As it appears, Italy might be set to join other European countries such as the Czech Republic, Portugal and Estonia in decriminalizing the plant. In what must have been a great week for cannabis enthusiasts, the referendum to legalize cannabis met its target.
Legalization of Cannabis in Italy
Following the legalization of cannabis in other European members like the Czech Republic, Estonia and Portugal, the referendum in Italy did not come as a big surprise to many. The aim of the referendum is to amend the 1990 law regarding sale and personal use of cannabis. According to this law passed in 1990, the possession of marijuana for personal use is punishable with the suspension of the individual's driving license. Possession of marijuana in commercial quantity on the other hand, comes with a punishment ranging from two to six months of jail time.
This referendum seems to be a step in the right direction as it was signed by more than 420,000 people in just four days. This is just 80,000 signatures shy of the 500,000 target which was set for September 30, 2021. One of the main drivers behind this referendum in Italy is Giuseppe Civati. Giuseppe Civati is the founder of Possible, a party in Italy that is built on progressive values. Speaking to news agency Euractiv, Civati said "This success is explained by factors". He went further to break down these factors into two different points of view, namely technical and political.
On the technical point, this is what Giuseppe Civati had this to say "From a technical point of view, setting the referendum up and signing it has become much easier thanks to the introduction of digital signatures, which seriously cut organisation costs". Speaking on what the referendum represented politically, Civata suggested that the issue has been a long time in the making.  "There are around a million cannabis consumers in Italy. The people who use it are not the kind of marginalised members of society as right-wing parties describe them, and many parts of the United States have made it legal through referenda too".
Civati's submission on the need for cannabis legalization suggests that it might be a moral issue than one driven by health concerns. The stigma that comes with the use of cannabis still remains present, which is why the plant is still illegal for the most part. Speaking further on the referendum and cannabis legalization in Italy, Civati said "National politics has long been completely static on subjects that are considered taboo in a purely electoral logic". He ended his speech by encouraging citizens to fight for what they believe in. The legalization of abortion and divorce in Italy were achieved through referendums, so it is left to see what this result will change in the case of cannabis legalization.
Cannabis in Italy – Laws, Use and History
While it is hoped that cannabis will eventually be legalized in Italy, it is important to understand the laws guiding its usage. This will help you, in case you happen to be in the country sometime. In this section, we will answer frequently asked questions about the use of cannabis in Italy.
Can You Possess and Use Cannabis in Italy?
In Italy, the law governing the use of Cannabis is known as The 1990 Consolidated Law. Going by the dictates of this law, the use of cannabis is not illegal, however its possession is illegal. According to this law, the possession of marijuana for personal use is punishable with the suspension of the individual's driving license. Possession of marijuana in commercial quantity on the other hand, comes with a punishment ranging from two to six months of jail time. It is important to note that for first-time offenders usually get off with a warning and formal request. This only applies to people caught in possession of cannabis for personal use.
Can You Sell Cannabis in Italy?
The simple answer to this question is no. Selling or supplying cannabis in Italy is illegal. While selling cannabis comes with a less severe punishment than selling hard drugs, it is still regarded as a serious offence. Selling cannabis in Italy typically comes with a punishment of six years of jail time. In cases where the offence is considered to be minor, the prison sentence could be four years or as low as six months.
Can You Grow Cannabis in Italy?
Surprisingly, you can grow cannabis in Italy, as the cultivation of hemp was legalized in 2016. The move to legalize hemp cultivation turned out to be the right decision, as it has some economic advantages. Hemp-based products such as building materials and pasta, are being produced by Italian brands. Hemp cultivation for personal use is still illegal, and it is left to see if that will change with the success of the referendum.
Is CBD Legal in Italy?
Therapeutic CBD oil can be purchased and used legally in Italy. You however require a doctor's prescription before you can purchase it, as they are sold in pharmacies. Regular CBD oil can be purchased legally as long as its potency does not exceed 0.6%.
Can Cannabis Seeds Be Sent to Italy?
Yes, like most European countries, you can send cannabis seeds to Italy. As a matter of fact, they can be sent by post. However, these seeds cannot be planted as personal cultivation of hemp is illegal in Italy. Cannabis flowers known as buds are also sold legally, provided the THC content is below 0.6%.
Conclusion
The move to legalize cannabis in Italy is a step in the right direction. It is also likely to have a ripple effect, as other European countries as well as countries in other continents will consider reforming their cannabis laws.
ITALY GOES LEGAL CANNABIS, READ MORE..