Crain Publishing Snaps up Deb Borchardt's Green Market Report as Cannabis Media Gets Even Hotter

Deb Borchardt's Green Market Report has been acquired by media giant Crain Publishing.
Deb Borchardt is very important.
If you are not familiar with Deb's work on CNBC and as a financial analyst, she is a female news media pioneer in the cannabis space. Deb, and Cynthia Salarizadeh, started Green Market Report over 5 years ago and have built the marijuana financial news website into a powerhouse. While nothing in the cannabis space has been easy over the last 5 years, Deb not only had to overcome the usual obstacles in the cannabis media space such as ad regulations, social media account shutdowns, no paid advertising allowed, and "getting the cold shoulder" from mainstream media sites, but also had to battle the "bro-culture" and bullying that exists in the cannabis space for female-lead startups.
"Green Market Report has remained one of the most trusted news sources in business for the global cannabis industry," explained co-founder Cynthia Salarizadeh. "To be acquired by one of the most respected business media conglomerates in the world, Crain Communications, is validating to all of the hard work we put in to remain a trusted media brand. The Green Market Report brand will now grow to meet its potential with Debra remaining at the helm. We could not have asked for anything more."
Deb and Cynthia kept to the authenticity of the site, and while some companies do not like it when you report on their disappointing earnings or their suspect industry moves, Deb took each threat of a lawsuit or harassment from these companies and used it as motivation that she was on the right path.  Ironically, the guiltiest of these "bro-culture" companies are nowhere near as successful as Green Market Report, as one has been struggling for years to go public and faces endless lawsuits in the future, and the other is kicking out their founders due to debt issues and shareholder unrest.
Green Market Report, the CNBC of Weed, has brought incredible financial reporting, as well as one of the most iconic and humorous interviews done in the cannabis industry to date, how Massroots, now a trash recycling company, wants to be the biggest comeback story in the cannabis industry.  At first you may think it is lifted directly from The Onion, but as you read through it you realize no other article or interview in the cannabis industry is a better illustration of the hubris, wild-west days, of the Cannabis 1.0 industry.
Cannabis.net was proud to do an interview with Deb way back in 2017 as her site was getting started, you can watch the interview and read why Deb started Green Market Report here.
DEB BORCHARDT OF CNBC LAUNCHES THE GREEN MARKET REPORT
As far as industry trends, if you are an avid reader of Cannabis.net, you know that his acquisition falls right in line with our now famous article, "Apple Just Changed the Cannabis Industry Forever".  While the article has been syndicated on hundreds of websites, the next cannabis industry will be dominated by "consumer touching" technologies and websites.  The first 10 years of cannabis were defined by "plant touching" opportunities because, well, you had the plant and no one else did, hence you could create nice margins on a product that many people wanted, but few could get or legally sell.  If you want to make money in the next 10 years of cannabis, the big goldmine will be in "consumer touching", not "plant touching" companies.  Why? Because there are dispensaries popping up everywhere, delivery services starting by the week, tens of millions of Americans already have their cannabis "hook up", and basically, we are dealing with a plant. A plant that grows in 8 to 12 weeks.  The more plants that are grown in every country around the world, the more access people will have to that plant.  Eventually, with legalization, we will have efficient markets that will decimate the margins of plant growing companies. No longer will a pound of high-quality bud be $800 in California and $4,200 in Massachusetts. There will be overnight flights and deliveries so that there is much smaller price range deviation.
Controlling the plant was Cannabis 1.0, controlling what the customer sees and does is Cannabis 2.0.  The race is on to get the first fully insulated app for ordering weed and Weedmaps has a huge head start based on their $2 billion war chest and massive online traffic. Leafly will always have a second-place niche to Weedmaps, in the same way Yahoo does to Google. The only real threat to Weedmaps dominance is Amazon.  They have the money and technology to take over a large chunk of online ordering when the time comes.  Unless someone like a Salesforce, Shopify, or Uber buys an MSO and some cannabis sites, there is no real competition on the technology and finance side to dethrone Weedmaps.
MSOs, tech companies, delivery companies, media companies, and dispensaries are realizing that getting the order is a lot harder than fulfilling the order in the end. In a race to the bottom on margins on the plant, getting the order for $0.01 of organic traffic as opposed to $35 clicks for Blue Dream on Google, is the new path to higher margins and bigger riches. Green Market Report is a trusted source of high-quality financial cannabis content.  If MJ BIZ Daily is the Wall Street Journal of Weed, then GMR is the CNBC of Cannabis.  Deb Borchardt worked tirelessly and overcame longer odds than most could image to see her site get acquired by such a fine company like Crain Publishing. 
To Deb and her team, we salute you!
Crain Communications acquires cannabis financial news brand Green Market Report FOR IMMEDIATE RELEASE September 23, 2021 NEW YORK—Crain Communications has acquired Green Market Report, a digital media brand that covers financial news of the rapidly growing cannabis industry. Green Market Report was launched in 2017 by co-founders Debra Borchardt, a financial journalist and former Wall Street executive, and Cynthia Salarizadeh, a seasoned public relations expert and legal cannabis industry insider. The acquisition will be finalized on Sept. 30, 2021. "We are excited to add Green Market Report to our now 21-brand portfolio," said KC Crain, president and CEO of Crain Communications. "They focus on the financial, business and economic side of the cannabis industry, so it's a natural fit with our other business brands." Green Market Report, which includes a network of freelance journalists and garners 150,000 monthly page views, is led by Borchardt and located in New York. "Crain is one of the highest quality business news organizations in the country," said Borchardt, CEO and co-founder of Green Market Report. "Their team, resources, and respected journalism will make the perfect partner as Green Market Report continues into the future. The combination of Crain's experience and Green Market Report's expertise will turn us into a leader in the industry, and I'm personally excited to be a part of that growth." This deal comes two years after Crain's acquisition of GenomeWeb — an online source for news around genome sequencing — in 2019, both contributing to the company's overarching goal of portfolio diversification. Green Market Report will join Crain Communication's family of brands that spans across 10 offices and includes 650+ employees, with headquarters in Detroit and additional main offices in Chicago and New York. About Crain Communications Inc Crain Communications is a privately held media company that produces trusted and relevant news publications, lead generation, research and data products, digital platforms, custom publishing, and events with uncompromising integrity. Reaching 78 million readers globally, the company's brand portfolio consists of 21 publications. Many of Crain's brands are the most influential media properties in the verticals they serve including Automotive News, Ad Age, Modern Healthcare, Plastics News, and Pensions & Investments. Headquartered in Detroit, the company has 650+ employees in 10 locations delivering exceptional news content over a variety of platforms to empower the success of its readers and clients. To learn more about Crain Communications, visit crain.com. Contact: Ariel Oltean Corporate Communications aoltean@crain.com About Green Market Report The Green Market Report focuses on the financial news of the rapidly growing cannabis industry. Our target approach filters out the daily noise and does a deep dive into the financial, business and economic side of the cannabis industry. Our team is cultivating the industry's critical news into one source and providing open source insights and data analysis. To learn more about Green Market Report, visit greenmarketreport.com.
THE GREEN MARKET REPORT IS HOT, LEARN MORE..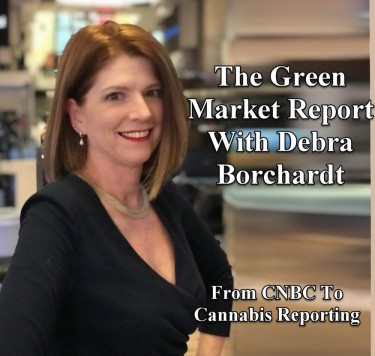 CNBC'S DEB BORCHART GOES GREEN WITH THE GREEN MARKET REPORT!
OR..