Will You Try Justin Bieber's New California Cannabis Brand 'Peaches'?

You have probably rhymed to one of his songs before now, and you are thinking, "Really? Justin Bieber gets his weed from California?" YES!! He does get his weed from California, and the best part of this information is that you can get the SAME weed. Like other pop stars such as Drake, Snoop Dogg, and Jay-Z, Justin Bieber also enjoys weed, and we are about to learn more about that. 
Bieber's collaboration 
The superstar singer is collaborating with a Los Angeles Marijuana Company called Palms Premium to offer pre-rolled joints as a way of celebrating his famous song. In his hit song "Peaches," you can hear the lyrics: 
"I got my peaches out of Georgia; I got my weed from California." 
The Palms Premium had announced that there would be a limited-edition collection of pre-rolls with Bieber. The announcement was made on their Instagram Stories on Monday to promise that fans can get the seven-joint pack to be sold in California. However, this is a limited edition product that includes full flowers. 
The flowers coming with the products have no trim or shake, with each pack having a lighter roll with Peaches graphics which is viewed as a "Collector's item." It is one product that everyone will find highly convenient. 
The pre-roll retail packs will be sold for $50-$60 in Nevada, Florida, Massachusetts, and California, with sales starting on October 4, which means there will be exciting times ahead for residents of California. 
Bieber likes his weed! 
Justin Bieber had discussed his addiction to cannabis as well as other things with his mental health struggles; he shared these details with fans on his YouTube Originals Docuseries. He views the value of taking marijuana in a practical and purposeful way, and now he intends to put it out there.
He has also maintained that he is a massive fan of the Palms, and he believes in what they do in making marijuana more exciting to consumers. His approach is also backed by the idea that he wants to destigmatize people's image of cannabis in societies. Bieber also believes that many people who struggle with mental health will find cannabis helpful. 
His ideas on cannabis are that he wants to ensure that he is doing something "Genuine" and wants to share these views with a company that understands his vision. It turns out that Peaches was an excellent place to start for him. 
The aspect of philanthropy 
Aside from his genuine interest in the cannabis industry, Bieber also wants to utilize the partnership with Palms as a tool to raise awareness about social causes. One of the organizations he supports is Veterans Walk and Talk, a group of veterans that advocate for the utilization of cannabis as a kind of medicine and for outdoor usage. 
He also wants to work with the Last Prisoner Project, a popular nonprofit that focuses on marijuana criminal justice reforms that support people and their families affected by marijuana convictions. The Palms founders are hoping that Justin Bieber's story and messages and his platforms will raise awareness for the organizations and the causes he is passionate about. 
Bieber's vulnerability and his openness about his mental health challenges impressed the Palms organization. With Bieber's help, they hope that millions of people will be inspired to talk freely about their mental health issues. 
Lessons to learn from Justin Bieber's story 
Justin Bieber is a celebrity interested in cannabis. Yes, he takes cannabis, but he also wants to use his platform for good. This is one of the most striking truths about the cannabis industry: it is a community of people who love weed and want to do good. Take a moment to imagine how much impact will be made in organizations that result from such gestures. 
Bieber's gestures also reflect what people can do with marijuana when they decide to take it seriously and use it for good. For many years, the struggle with cannabis was to legalize it, and while that struggle is still on, it has taken a new turn. 
The new turn it has taken is that people are now leveraging on it to change their societies and communities. Many nonprofit organizations have dedicated their time and efforts to giving back to societies from their profit from marijuana. Most of these organizations seek opportunities to contribute to their communities, and with stars like Justin Bieber, their dreams will come to fruition. 
Mental health challenges are also the most problematic issue right now. The world is still grappling with the aftermath of the COVID-19 pandemic, and people need help. But most help centers must be paid for, and these cannabis-based organizations can reduce the cost of treatment, making for a happier and healthier community of people. 
With cannabis, we are starting to get things right again, and with such famous people collaborating with cannabis-based firms, the give-back culture is now more impactful and exciting. Think about how you can contribute to the sector by being a part of such initiatives like what Justin Bieber is doing right now: you will be glad you did.
Bottom Line
The marijuana story is an exciting one! From being the most vilified substance in various societies, it has become one of the most sought-after substances, especially in states where cannabis is legalized. Famous people like Jay Z, Snoop Dogg, and now Justin Bieber use their influence to shine a positive light on cannabis. 
Over time, people who are still skeptical about cannabis but trust these superstars will start to enjoy the value it brings to the table as a recreational and medicinal substance. Are you a fan of Justin Bieber? It is time to head over to California to get direct access to the same weed Bieber is getting. 
Cannabis is the future, and if you weren't convinced, Justin Bieber's latest efforts should persuade you to start taking your marijuana journey as an individual or an entrepreneur seriously.
CELEBRITES GETTING INTO WEED, READ MORE…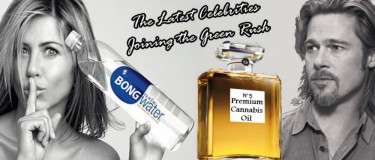 HOLLYWOOD CELEBRITIES THAT ARE GETTING INTO THE WEED BUSINESS?
OR..