And Another Website Gone – Benzinga Media, Valued at $300 Million, Gets Bought by Toronto-Based Beringer Capital

Another day and another website scooped up as traffic reigns supreme.
As quick as we can update our cannabis tech and website deals page here, another site or platform gets snapped up in a buying frenzy.  This time, Toronto-based Beringer Capital swooped in and took a majority stake in the financial and trading site, Benzinga Financial, headquartered in Detroit, Michigan. Beringer Capital has offices in Toronto and New York has a history of partnering with digital media companies and helping them to adapt and thrive amid a rapidly changing business landscape. Earlier this year, the firm announced its acquisition of Inman News, a foremost source of news and insights for the real estate industry.

Wait, I thought you said cannabis-based sites? Isn't Benzinga all about stocks and stock trading?
Yes, on the outside Benzinga has a look and feel like Yahoo Finance mixed with trading videos and webinars, but underneath the surface, Benzinga is one of the leading cannabis news sites, lead by lead cannabis writer, Javier Hasse. Benzinga took to the trading and financial space first, built up a large syndication base, and then pivoted as marijuana was getting legalized to create a large division of cannabis traffic.
While the terms of the deal were not disclosed, Beringer Capital said it valued the company around $300 million and took a majority shareholder stake.  Benzinga sends out daily newsletters and has a premium service, Benzinga Pro, with monthly subscriber fees ranging from $99 to $347. Benzinga claims about 25 million readers each month and over 1 million subscribers for its emails.
"We're thrilled to partner with Jason and the team at Benzinga, a company at the forefront of trends affecting the next generation of investors," said Perry Miele, chairman and managing partner at Beringer Capital. "To date, Benzinga has done a remarkable job of differentiating its offerings and building a vibrant, engaged community across its various platforms. We're looking forward to building on this impressive trajectory, collaborating closely with its team on exciting new offerings that empower more investors to take control of their financial futures."
CEO Jason Raznick declined to share Benzinga's annual revenue, but said revenues have grown nearly 500% in the past three years.
This deal comes on the heels of Deb Borchardt selling the Green Market Report to Crain Publishing, Dutchie getting a $350 funding round done, Flowhub getting a $19 million round done, Jane getting a $100 million infusion, EAZE delivery buying the Green Dragon MSO and rebranding dispensaries as EAZE dispensaries, PotGuide.com selling for $8.5 million to Fire and Flower, and more deals coming weekly.
You can follow the latest cannabis tech and website deals on our running blog post here!
CANNABIS TECH AND WEBSITES ARE READ HOT, READ MORE…
CANNABIS WEBSITES AND HOW THEY STACK UP, WHO HAS TRAFFIC?
OR..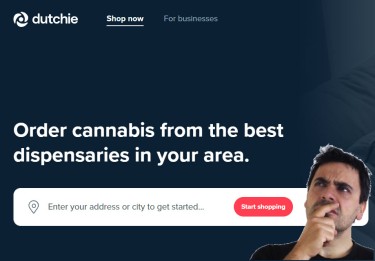 SHOPIFY FOR WEED GETS $350 MILLION IN FUNDING, NOW AT $3.5 BILLION VALUATION!